Mostra del progetto Linea 1201 Mappa Appennino di Angelo Bellobono
www.maxxilaquila.art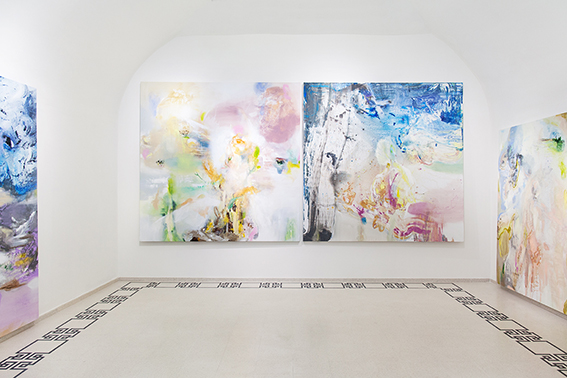 Libro Mappa Appennino edito da VIAINDUSTRIAE PUBLISHING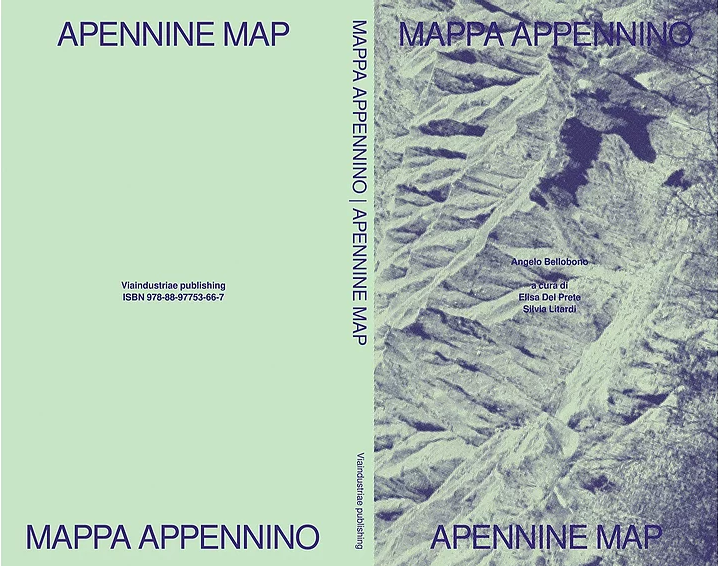 Presentazione libro d'artista Linea Appennino 1201 prodotto da Collezione Maramotti, edito da Danilo Montanari Editore
Rifugio Bargetana (RE) 5 settembre 2020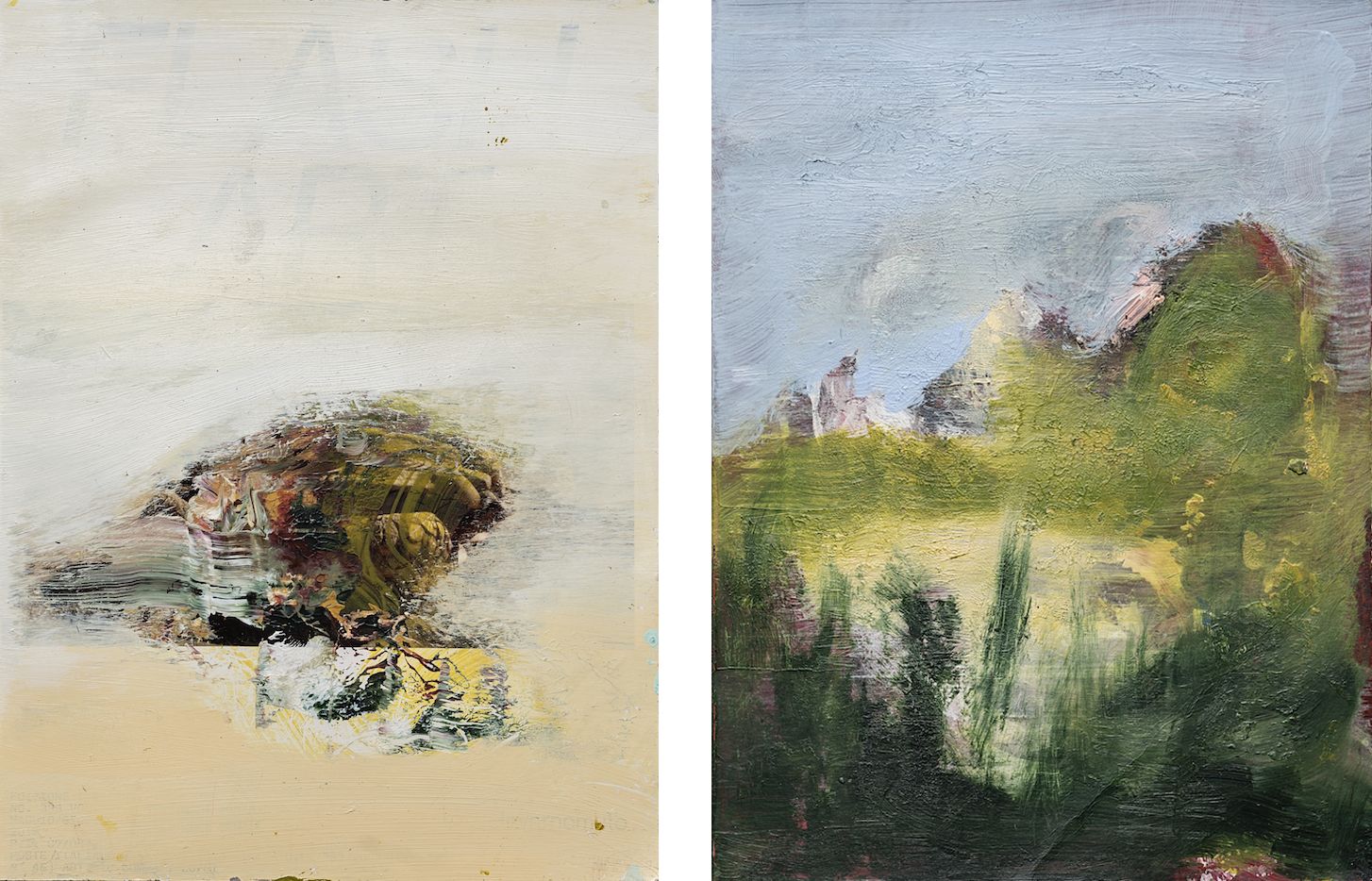 Linea 1201
Residenza diffusa in Appennino
A cura di NOS Visual Arts Production e con il supporto di Fondazione Cultura e Arte Roma

Casa Sponge
gennaio 2020
"Pian delle balze mi attende a Mezzanotte"
Residenza, pittura e indagine del paesaggio

Roma, giugno 2019
Materia di studio: 7 artisti internazionali al Macro per indagare sul colore. Organizzato e supportato da Liquitex, Windsor & Newton, Lefranc Bourgeois e InsideArt.

Reciprocal/Reciproco
Melbourne, Marzo/Aprile 2019
Curato da Laura Cionci e Domenico de Clario, Multicultural art centre, Melbourne, Australia.
Progetto Linea Appennino 1201
2018-2019
Il progetto prende nome dal percorso compiuto nell'estate 2018 lungo la dorsale appenninica, dal limite sud calabro-lucano del Pollino/Dolcedorme fino all'estremo nord del Monte Maggiorasca in Liguria, salendo le principali montagne di ogni regione italiana.
Ne è nato un nucleo di opere realizzato con le terre di queste vette poi presentate nella mostra "Linea Appennino 1201" curata da Elisa Del Prete nello spazio AlbumArte di Roma nel gennaio/febbraio 2019

2018
S.Cesario di Lecce
Simposio di pittura, Fondazione Lac O Le Mon
Border Crossing
Palermo, 2018
Evento collaterale Manifesta 12 a cura di Lori Adragna, Bridge art and Dimora Oz, Palermo

Mostra residenza Landina 

Ameno, 13 maggio 2018


Angelo Bellobono, Mattia Barbieri, Lorenza Boisi, Giulio Catelli, Elisa Filomena, Alessandro Finocchiaro, Nazzarena Poli Maramotti.


Museo Tornielli, Piazza Marconi 1 - Ameno (Novara)


Paesaggi Difficili 

Milano, 9 maggio 2018
Paesaggi Difficili a cura di Lorenza Boisi e Fabio Carnaghi

One night event



MARS ha il piacere di presentare "Paesaggi Difficili", mostra personale di Angelo Bellobono che propone alcuni dipinti recenti e un libro d'artista, appositamente scelti per lo spazio Mars.
"Salendo montagne a un certo punto la terra finisce e inizia il cielo, o si vola o si torna indietro."


MARS - Via Guido Guinizelli 6 - 20127 Milano

www.marsmilano.com

MARKA – TERRITORI DI CONFINE

Milano, 4 maggio 2018
Mario Giacomelli, Angelo Bellobono, Giulio Cassanelli, Roberto Coda Zabetta, Rocco Dubbini, Giovanni Gaggia, Gianluigi Maria Masucci, Giuseppe Stampone, Stefania Galegati Shines.

A cura di Maria Savarese
Other Size Gallery, Via Andrea Maffei 1, Milano

Inaugurazione venerdì 4 maggio, ore 18
5 maggio – 15 settembre 2018

dal lunedì al venerdì, h.11 – 20. Sabato h. 18 – 22. Domenica chiuso
Other Size Gallery | t. 02.70006800

direzione@othersizegallery.it | othersizegallery@workness.it | www.othersizegallery.it

PAINTERS-PAINTING-PAINTERS

20 artisti si autoritraggono in una maratona pittorica di un giorno

Milano, 25 aprile 2018
Armeni, Angeloni, Bardino, Bellobono, Boisi, C. Casadei, J. Casadei, Catelli, Di Pasquale, Finocchiaro, Fabbri, Filomena, Guido, Impellizzeri, Massari, Meoni, Portadino, Salvetti, Tealdi. 


MARS - Via Guido Guinizelli 6 - 20127 Milano

www.marsmilano.com

DE PROSPECTIVA PINGENDI 

Nuovi scenari della pittura italiana

Todi, 22 aprile 2018
Mostra a cura di Massimo Mattioli
Giuseppe Adamo, Antonio Bardino, Angelo Bellobono, Simone Berti, Thomas Braida, Danilo Buccella, Alessandro Cannistrà, Andrea Chiesi, Mario Consiglio, Laura Lambroni, Silvia Mei, Marco Neri, Gioacchino Pontrelli, Nicola Samorí, Nicola Verlato.
Inaugurazione: domenica 22 aprile, ore 11.00
Apertura al pubblico: dal 22 aprile al 1° luglio 2018
TODI, Sala delle Pietre di Palazzo del Popolo e Palazzo del Vignola

Soglie Mobili - Natura/Cultura/Identità
31 marzo - 17 giugno 2018
Contemporary Culture Center di Palazzo Tagliaferro, Andora (SV)
a cura di Viana Conti e Christine Enrile

RAID Manumission Motel
2 febbraio 2018
www.fatstudio.org/raid-manumission-motel/

DUM.BO
1-28 febbraio 2018
A cura di Maria Chiara Wang
ArteFiera OFF - Centro Studi Didattica delle Arti, Bologna

Continuità di confine
31 maggio - 9 luglio 2017
A cura di Lorenzo Canova, Università di Campobasso

10 anni di casa Sponge
Settembre 2017
A cura di Serena Ribaudo, Pergola (PU)

I Martedì Critici in mostra – ANNI Zero-2017
7-23 febbraio 2017
A cura di Alberto Dambruoso, Temple University, Roma

13/29 Novembre 2016
Group show Transformer
Opening november 13th at 6pm
American University's Katzen Art Center
4400 Massachusetts Ave NW, Washington

6 Novembre ore 18
Presentazione libro Chi, cosa
Rifugiati Transnazionalismo e Frontiere
A cura di Osvaldo Costantini, Aurora Massa, Jvan Yazdani
Copertina di Angelo Bellobono
Discussione e proiezione opere e progetti Angelo Bellobono
Museo MACRO – Via Nizza 38 Roma

3/6 novembre 2016
Angelo Bellobono a The Others: la prima fiera italiana dedicata all'arte emergente internazionale
ex Ospedale Regina Maria Adelaide
Lungo Dora Firenze 87, Torino

Mercoledi 26 ottobre dalle 15 alle 20
Roma art week open studios
Via Tommaso Gargallo 28 – 00137 Roma

Ricapitolando 1996-2016
Mostra a cura di Roberto Gramiccia
Plus Arte Puls, Viale Mazzini 1 - Roma
Inaugurazione lunedì 24 ottobre 2016 ore 18.00

15 ottobre 2016 ore 12-19: Inaugurazione della mostra IO SONO FUTURO
Galleria Emmeotto, Palazzo Taverna, Via di Monte Giordano 36, Roma
Un progetto di Angelo Bellobono con il sostegno di Emmeotto Arte e con i ragazzi delle scuole di Arquata, Amatrice, Acquasanta, il gruppo Chiedi alla Polvere e Il nuovo Centro giovani di Amatrice.
Il ricavato dalla vendita delle opere esposte, create dai bambini e ragazzi di Arquata, Amatrice e Acquasanta durante i laboratori ideati e coordinati dall'artista, sarà devoluto per la realizzazione di un laboratorio artistico per le scuole e per sostenere attività formative, didattiche e culturali.
Scegli la tua opera e contribuisci a ricostruire il futuro dei giovani delle zone colpite dal sisma. I lavori rimarranno in mostra fino al 29 ottobre.

24 settembre 2016
Inaugurazione della mostra "Un pesce in una biglia" presso il Palazzo dei Papi di Viterbo. Mostra curata da Maria Elena Piferi

23 aprile 2016
Maam - Museo dell'altro e dell'altrove, Roma
Inaugurazione del nuovo dipinto murale realizzato con gli abitanti di Metropoliz

Friday, January 29th 2016 - 5pm
Mostra personale "Moving Borders"
Cappella Tremlett – Palazzo Re Enzo / Piazza Maggiore, Bologna
venerdì 29 gennaio, h. 17.00-23.30
sabato 30 gennaio, h. 15.00-24.00
domenica 31 gennaio, h. 12.00-20.00
www.nosadelladue.com

Saturday, January 9th 2016 - 5pm
Premio Santa Croce Grafica - ottava edizione
Villa Pacchiani Centro Espositivo
Piazza Pier Paolo Pasolini, Santa Croce sull'Arno

Sunday, November 22nd 2015 - 12pm/3pm
The mural realized by Angelo Bellobono and Jack Criyng Raven Anderson will be officially presented at the Ramapough Tribal center in Mahwah, NJ, in occasion of the Natives Day.
Ramapough Lunaape Community Center
189 Stag Hill Rd
Mahwah, NJ 07470

Saturday, November 21st 2015
The milky way 2, Galleria Studio SALES, Rome
Tuesday, October 6th 2015 - 5pm
MAAM Museo dell'Altro e dell'Altrove - Via Prenestina, 913 – 00155 Roma
Angelo Bellobono, Giorgio de Finis and Claudio Zecchi are pleased to invite you to meet Jack Criyng Raven Anderson and the Lenape, first inhabitants of New York.
October 3rd-4th 2015
Dynamo Art Factory open days, San Marcello Pistoiese, loc. Limestre (Pistoia)
Alongside with many differents actvities, the Dynamo Gallery will be open with the artworks created by the kids with the invited artists in 2015 - Caterina Silva, Paolo Parisi, Peter Demetz, Angelo Bellobono, Hans Op de Beck, Federico Pietrella, Blue & Joy.
Friday, October 2nd 2015 - 5pmMountain Festival 2015, L'Aquila

Parks
and
sports,
union
of
Mediterranean

mountains
and
people
Angelo Bellobono introduces the Atla(s)now project with Igor Antonelli, founder of Live your mountain
info:
http://www.festivaldellamontagnalaquila.it
September 5th - 19th 2015
#BoCS#ResidenzaArtisticaCosenza2015
July 24th - August 2nd 2015
Residency at Dynamo Camp

48° Premio Vasto Arte Contemporanea curato da Lorenzo Canova
July 11th - October 25th 2015
(Vasto, Italy)

Group show at the Richard Taittinger Gallery, NYC - curated by Residency Unlimited
154 Ludlow street, NYC
July 8th 2015 - 6.30pm/9pm

Angelo Bellobono will be part of the panel lecture "Practices as an intersection in a Fragile Environment #3"
May 26 2015 6 pm
Residency Unlimited (RU)
360 Court Street (enter church building through main entrance)
Brooklyn, NY 11231
www.residencyunlimited.org

Angelo Bellobono will be part of FLUX Art Fair in Harlem, NYC
May 13/17 2015
www.fluxfair.nyc

Angelo Bellobono will be part of TEDxRoma2015 titled "Mediterranean Carousel"
Saturday, March 21st 2015, 10am-5pm
Teatro Olimpico, Roma
www.tedxroma.com

A Talk with Ramapough Lenape Chief Dwaine Perry
In collaboration with the Angelo Bellobono exhibition: Before me and after my time
Wednesday, November 12th, 6 – 8 PM
E.R. Butler & Co.
55 Prince Street
RSVP: beforemeandafter@gmail.com
download PR [eng]

Before me and after my time
A transitory borders and temporary territories project
October 27 – November 22, 2014
Opening reception Monday, October 27, 6-9 PM
E.R. Butler & Co.
55 Prince Street
New York, NYHours: Tuesday/Friday 3-7 pm or by appointment: beforemeandafter@gmail.com
download PR [ita] [eng]

Angelo Bellobono in conversation with Michael K. Corbin
www.artbookguy.com
atla(s)now project
Official partner project at Marrakech Biennal 5
The Atla(s)now bus – The age of decentralisation
february 26th – march 31st 2014
www.atlasnowproject.com
AS Artist Studios
1 month pop-up show in Dumbo
november 7th-29th 2013


CURATE NYC
The contemplative vision and the exaltation of feelings
Curated by Pauline Iedra
www.gallerybrooklyn.com
october 27th – november 17th 2013


ArtVerona 2012 - INDEPENDENTS 3 Le nuove esperienze creative indipendenti.
Atla(s)now project with artist Angelo Bellobono and curator Alessandro Facente
www.fuoribiennale.org
october 18th-22nd 2012


Residency Unlimited NYC talk
RU Residency talk Atla(s)now with artist Angelo Bellobono and curator Ombretta Agrò
www.residencyunlimited.org
june 6th 2012 – 7pm


atla(s)now project
Official parallel project at Marrakech Biennal
www.atlasnowproject.com
SCOPE – Art Basel, Miami Beach
Asymmetrik – Booth A30
november 29th – december 4th 2011


Temporary states
GEM Gallery – Chelsea, New York
november 19th 2011


It's time to say goodbye
Palazzo Zenobio per l'arte – Venezia
december 3rd 2011 – january 10th 2012
WhiteXmas
Whitelabs – Milano
december 1st 2011 – january 20th 2012
And then there was the ice
Wunderkammern – Roma
october 7th – november 12th 2011
Tutte le lune del mondo
Space Metropoliz – Roma
october 8th 2011
SCOPE Basel
Asymmetrik – Booth A14
june 15th – june 19th 2011
Finalist Combat Prize
Bottini dell'olio – Livorno
june 10th – june 18th 2011
About freedom
Whitelabs – Milano
april 8th – may 7th 2011
Crosscurrents
Civic Art Center – Lagos, Nigeria
march 2011
Eastside – the journey
Biasa ArtSpace – Seminyak – Bali – Indonesia
july 30th – august 31st 2010
Under Italian Eyes
Horizon One, Mahmoud Khalil Museum, Cairo
May – June 2010
Impresa Pittura
CIAC – Centro Internazionale d'Arte Contemporanea – Castello Colonna di Genazzano (Roma)
May – September 2010
Artslant New York
Juried drawing winner
2010
Titled/Untitled
Wunderkammern – Roma
December 2009
Low life wellbeing center
Galleria Changing Role – Napoli
October 2009
Lower East Life
Envoy Gallery – New York
June 2009